Gomphonema acuminatum
Zygnema sp.
Closterium sp.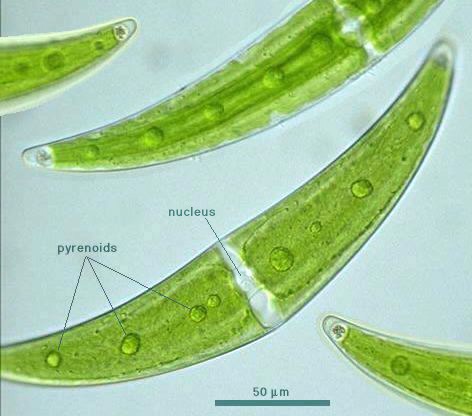 Merismopdiea sp.
Epithemia sp.
Spirogyra sp.
Getting a tattoo like this is a lot like commissioning a work of art. You meet with the artist, discuss the generalities of it, let the artist put his own spin on it, approve his rendition and then get it done. I've already got the artist picked out, he's a very nice young man down in the East Village on St. Marks Place. I'll post him and the finished work later on. But he's very good at "natural" tattoos. He did a lovely soaring raven for the Hubster.
So since this is a work of art, I am comfortable taking certain liberties. I obviously want the algal taxa to be as morphologically correct as possible. But I'm ok with proportions being off. For example, the diatoms posted here are obviously photographed at >1000x and the greens are at <400x. If I had everything proportional, the artist wouldn't be able to capture any of the detail of the diatoms respective to the filaments.
And obviously there's a lot more algae that I could choose (I'm still debating whether or not to include Fragilaria crotonensis or Asterionella sp.). But I want to know your suggestions too!
Please post in the comments which species you would like to see in a tattoo with a link to a picture that you think would be a good model for the tattoo artist. Thanks!! Can't wait to see what the internet throws at me!